Jazzmanix was founded in 1995 as a Music Department society at the University of Southampton. Under the direction of Dr Jose Bowen, the choir performed with jazz giants such as Dave Brubeck and Norma Winstone, and recorded two CDs with the Southampton University Jazz Orchestra (SUJO). After Dr Bowen left the University, the choir continued to enjoy success under the leadership of two former music students, Mark Dickman and Jo Mattock.
For the first time solely under the musical direction of its own students, Jazzmanix continued to grow and released its third and fourth albums: University Jazz, a twelve track CD recorded in May 2000 in collaboration with SUJO, and Feelin' Good!, recorded in 2003. In the early 2000s, Jazzmanix performed as part of the Sandown Summer Festival on the Isle of Wight, performed in numerous charity concerts along the South Coast (raising over £1000 for Children In Need), and even sang in front of royalty at the inauguration of two P&O cruise liners at Southampton Docks. The society recorded another CD with the title A little bit of faith, and began its tradition of volunteering in the local community by running workshops at local primary schools and singing in carehomes, which is still done to this day, as well as performing in Winchester Prison. In 2004, Jazzmanix made an appearance at the Edinburgh Fringe Festival, reached the final of the national Gospel Entertainment Music Awards, and was also judged to be the "Best Society at the University of Southampton" by the Students' Union Clubs & Societies Awards for two years in a row!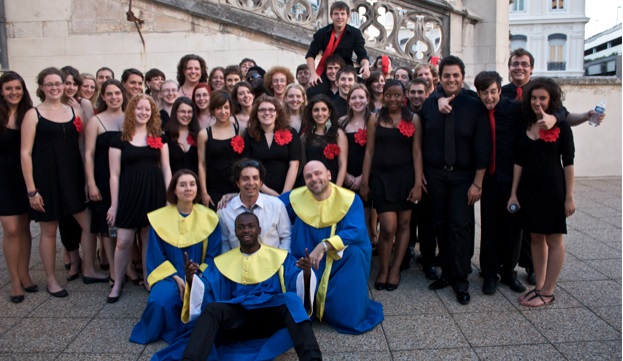 Jazzmanix & the Kwassio Gospel Choir, 2009
In 2006, the choir's charitable performances continued, putting on two charity concerts in Romsey: firstly to raise funds for the restoration of Romsey Abbey's bellframe, and then again a year later for Romsey Abbey Primary School's building fund. Performing in major Jazz festivals: North Sea Jazz Festival in Holland in July 2007, the Montreux Jazz Festival in July 2008 and again in 2010, and the Vienne Jazz Festival in 2009 (including a join concert in Lyon with the Kwassio Gospel Choir) Jazzmanix continues to travel every summer to give members the opportunity to sing in new countries and unique venues. Tour destinations have included Holland, Switzerland, Barcelona (3 times... we must like sangria), Czech Republic (singing to a crowd of over 1000 as part of the world cup festivities in Prague Old Town Square), Italy, Germany and Belgium.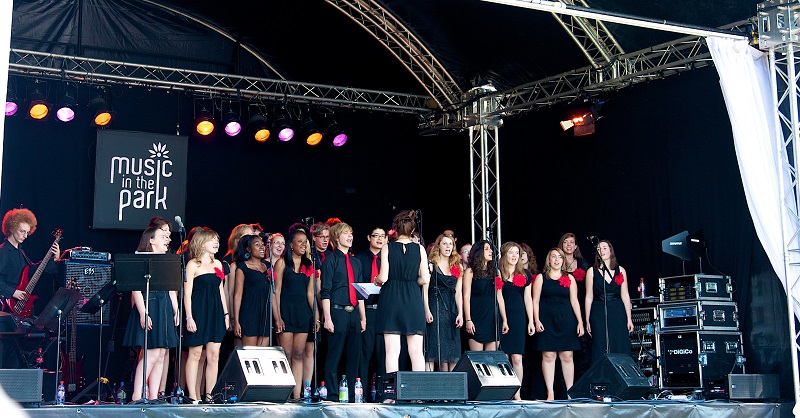 Jazzmanix at the Montreux Jazz Festival, 2011
Our first vocal workshop was in 2011 and was run by renowned Gospel singer Geraldine Latty, who came back for a second workshop in 2017. Standout concerts in the early 2010s include the 2012 Spring concert in collaboration with the Wildern Community Choir, a 2013 concert in the Southampton City Art Gallery, Winchester's Theatre Royal for Spring 2014, many sell-out concerts at the Turner Sims and a concert at Disneyland during the 2014 tour to Paris.
In recent years, exciting concert venues have included Winchester Science Centre & Planetarium, the Domus within Beaulieu located in the New Forest and the Winchester Guildhall. In 2018, the choir performed as part of a support act for Nelly at the O2 Guildhall in Southampton in front of thousands of people. Opportunities for a capella small group performances have also seen involvement in a live lounge podcast by the university's SUSUtv and various performances in local communities. The society continues to strength its bonds within the area, such as raising money for Southampton General Hospital and singing at the Winchester Christmas Makerts annually. A workshop was run by leader of the Howard Gospel Choir, who spared a day out of their UK tour to come to the university free of charge!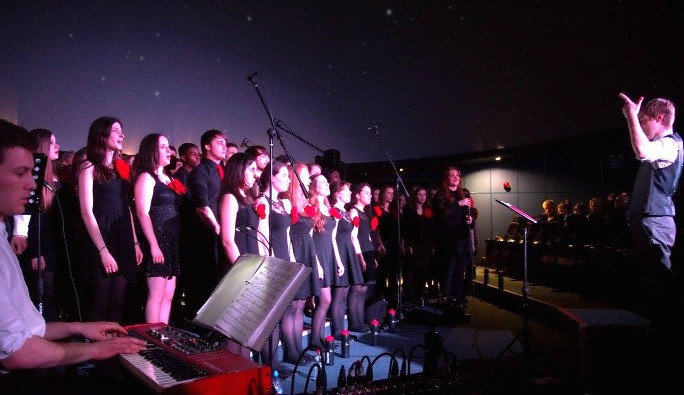 Jazzmanix at the Winchester Planetarium, 2015
The work that Jazzmanix does wouldn't be possible without any of the committee members that have served the society throughout the last 25 years, and in particular its musical directors: Mark Dickman, Jo Mattock, Ed Gray, Adam Street, Rosie Austin, Constantinos Andronikou, David Corck-Adelman, Naomi Gibb, Louise Hunt, Natasha Willis, Georgina Challands, Tom Denton, Naomi Hickman, Marios Stylianou, Evie Asio-Okwalinga, Joe Nurse, Becky Griffin, Jonathan Sandman, Greg White, Andrew Wood, Kenni Alli, Natasha Bennetts and Lucy Mellenfield.
Jazzmanix has developed enormously since its conception 25 years ago from a music department choir to accompany SUJO, to a student-led pop and gospel choir which puts on concerts performing with its own band and a capella groups. We are proud to be a society that has such as rich history within the university with many dedicated alumni, but that is not afraid to evolve with the times and be shaped by its current members. Thank you for joining us on our journey; we don't know where we will go next but only that we will continue with our aim of giving every student the opportunity to sing and to share this love of music within the university and to all who hear us.